Ducks game vs UCLA postponed due to a game officials COVID test – 247Sports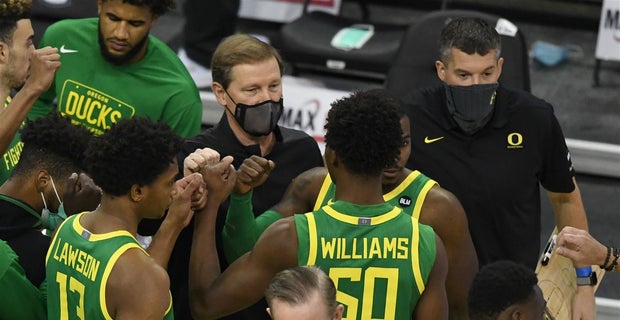 Oregon's basketball game against UCLA set for a 12:00pm tip off will not be happening on time.  DuckTerrritory learned that the game was "on pause for a developing situation". The Pac-12 was hoping to make the game up later this afternoon but canceled the matchup just two hours after the delay.  
The Pac-12 conference released a statement, 
"Today's UCLA vs Oregon Men's Basketball game has been postponed indefinitely due to COVID-19 testing protocols for game officials. The Pac-12 will work with both programs to attempt to find a mutually agreeable date to reschedule the contest."

When alerting viewers that the game would not start on time, ESPN2 reported that a game official had tested positive. 
The UCLA Bruins come to Eugene and Oregon head coach Dana Altman knows this could be perhaps Oregon's toughest game of the year to date.
"Their experience is very good," said Altman.
"They've got everybody back. They go nine deep, 10 deep with experience. Physicality. They are very talented."
The Ducks will be playing their second game without N'Faly Dante after Oregon's starting center was lost for the season due to a torn ACL last week. UCLA's size is going to be a big factor for this game as the Ducks will likely start a lineup that doesn't include anyone over 6-foot-6, and UCLA has multiple physical forwards and centers.
"The two guys inside, [Cody] Riley and [Jalen] Hill will give us problems inside without Dante.
Hill and Riley are both taller than 6-foot-9 and play an aggressive, physical style, and will outweigh anyone the Ducks place at the center spot on Wednesday night. Both players have starting experience and in their careers and were former four-star recruits coming out of high school.
To their core, the Bruins go as senior guard Chris Smith goes. The 6-foot-9 wing elected to pass on the NBA this past offseason and returned to Westwood for a chance at improving his NBA Draft stock. He's one of the top players in the conference and the country.
"When he's playing well, it is tougher," said Altman. "He is very versatile. He can score inside, he can shoot threes. He's a matchup nightmare with that size. No doubt he's key to what they are doing. When he plays well, the team plays well."