2:00PM Water Cooler 1/28/2021
By Lambert Strether of Corrente.
Patient readers, I overslept. More shortly. –lambert
Bird Song of the Day
Another Grey Catbird for catbird stans. With the insect buzzing, very summery.
#COVID19
Lambert here, last Friday: Well, I said "If these declines continue through the end of the week, I'm gonna have to conclude we're looking at a genuine fall in the numbers — not the current narrative, I might add — and that we are not looking at a reporting effect from the long weekend." So I have to conclude we're looking at a genuine fall in the numbers.
We are also not seeing an explosion from travel over the holidays, now well in the rear-view mirror. We might get a spike in ten days or so, if people were partying on MLK day, but with luck it will be small. Of course, there are those worrisome variants, so a mood of sunny optimism is not warranted.
Amplifying the variants issue: I am looking at aggregated regional and national data. That doesn't preclude the idea that there are individual "hot spots" that are doing very badly. And if those hot spots are due to the new variants, and one or more of the variants is either resistant to the vaccine, or eludes current treatment protocols, we could see another rendition of the "stair step" pattern that we've already seen in cases. Unfortunately, our data collection is so bad that we have no way of tracing viral lineage in anything like near-real time, so we can't tell where the variants are hitting. (Cities with direct flights to the UK or South Africa would be places to check the sewage.) We might keep in the back of our minds that the first sign of a tsunami is water withdrawing from the shore — like the decline we are seeing now. It never hurts to have an extra mask or two around the house, or sacks of rice and beans, say I.
* * *
At reader request, I've added this daily chart from 91-DIVOC. The data is the Johns Hopkins CSSE data. Here is the site.
I feel I'm engaging in a macabre form of tape-watching…. (A reader asked the source of the data: Johns Hopkins CSSE. DIVOC-91 does allow other data sets to be used, like Our World in Data and The Atlantic, and where they provide visualizations similar to those below, a cursory comparison shows that the shape of the curves is the same.)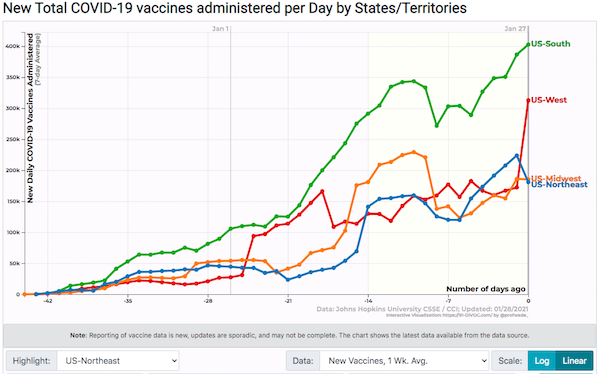 Vaccination in the West: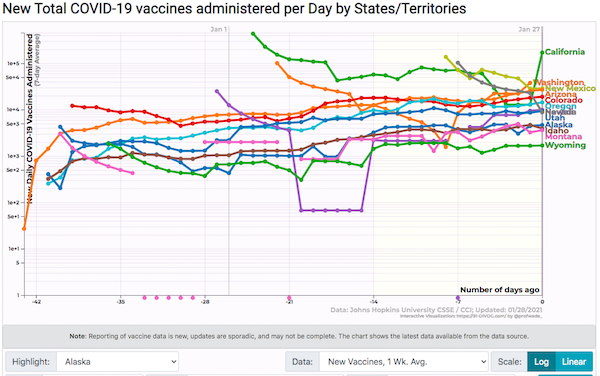 I wondered if the enormous leap in the West was California, and it was. (I had to change to the log scale to unbunch the states from the bottom.) Since the leap is on the 27th, one day after Newsome lifted the stay-at-home order, it's possible people went out and got themseles vaccinated, in which case Newsome's decision might not have been as feckless as it first appeared to be.
Case count by United States region: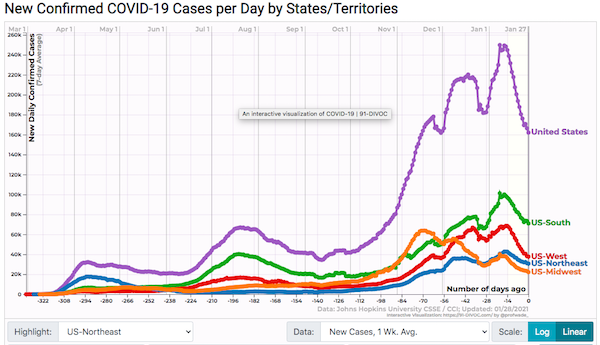 Big states (New York, Florida, Texas, California):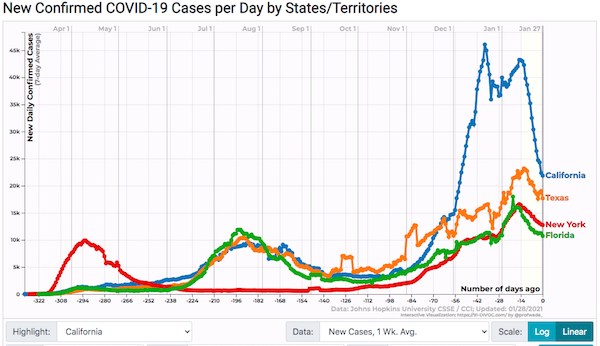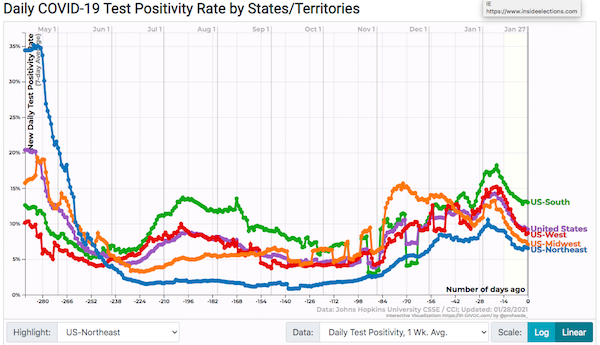 Nowhere near 3%, anywhere.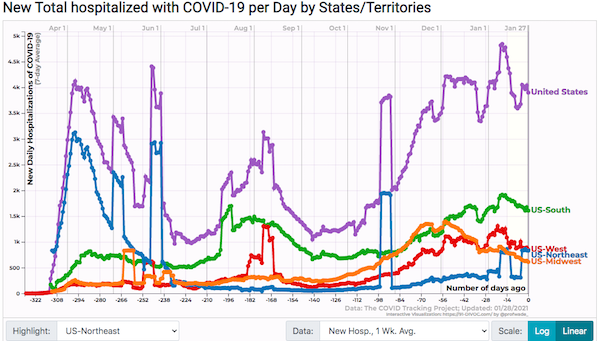 Note: The increase in hospitalizations, due to a slight uptick in the West, and a leap in the Northeast. But look back at the Northeast, and you'll see a similarly-sized leap, followed by a fall. Of course, the pessimistic scenario is that the Northeast is Boston, and Boston is flights from Ireland, infecting families with B117. Something to watch; Boston is still elevated.
Hospitalization is discretionary; they may also be reducing their admissions rate — relative to cases we cannot see in this data! — to preserve future capacity; or because hospitals have figured out how to send people home.
Case fatality rate (plus deaths):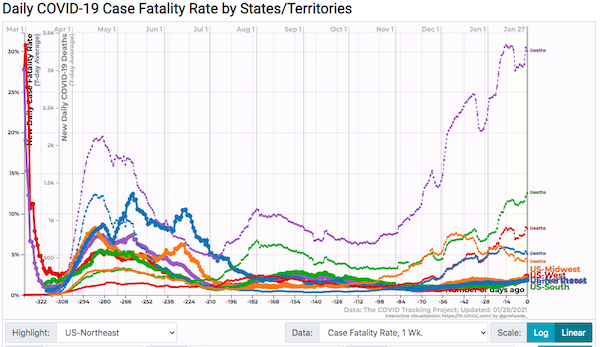 There's that slow rise in the fatality rate again.
Politics
"But what is government itself, but the greatest of all reflections on human nature?" –James Madison, Federalist 51
"They had one weapon left and both knew it: treachery." –Frank Herbert, Dune
"They had learned nothing, and forgotten nothing." –Charles Maurice de Talleyrand-Périgord
Capitol Seizure
"3 militia members charged with plotting Capitol breach" [WaPo]. "The chilling details in the case included communications between the defendants and others. 'All members are in the tunnels under the capital,' the FBI quoted a message sent to Caldwell during the Capitol attack. 'Seal them in turn on gas.'" • Nasty stuff from the Oath Keepers (if proved in Court). But additional 9/11-style legislation requires, in my view, proof of organizational capacity as well as bad intent. (Charles Pierce's "quote" from this article doesn't correspond to the actual article.)
Transition to Biden
"Hail to the Grief" [The Baffler]. "President-Elect Joe Biden is 'the most gothic figure in American politics.' He is 'grief's charismatic confessor,' 'a kind of emissary of bereavement.' Grief is his 'superpower' and 'secret weapon'; through it, he has shown 'that out of the darkness can come light.' He has 'turned his tragedies into purpose.' He is a 'grief-counselor-in-chief.' He makes people feel that 'he understands the depth of their pain.' And in so doing, he 'has the potential to change the public discourse on mourning.'…. I don't begrudge Biden his pretty words—to hear them from people who had also lost a parent in the days after my father's death quieted the matter-of-fact voice in my head insisting that my life was over. But of much more help were the quarts of soup friends packed into my freezer; the grants that continued to fund my education; the on-campus job that allowed me to cry surreptitiously in the basement without fear of reprisal. What a difference it would make for such lifelines to be guaranteed rather than contingent. What a difference humane health care and addiction policies might have made for my dad. Ultimately, Joe Biden's ballyhooed powers of grief amount to no more than what we are all capable of doing for one another: recognizing and witnessing each other's suffering. We should ask for much more from our elected officials—it's their task to try to prevent it, whether they share in our experiences or not." '• Amen.

Sanders:

Bernie Sanders became a meme, put the meme of himself on a sweatshirt, sold out, sold tshirts and stickers, raised $1.8 mil for charity, made GETTY IMAGES donate their cut, and another company donate 50 coats.

That's the guy the political/media establishment said is out touch.

— Brett "Unions 2021" Banditelli (@banditelli) January 28, 2021
Transition from Trump
Nice to see Mike Pompeo landed on his feet:

NEWS ALERT: Hudson Institute is pleased to announce that @mikepompeo has joined us as a distinguished fellow. Read our full statement: https://t.co/Th1muZBlFV

— Hudson Institute (@HudsonInstitute) January 27, 2021
Stats Watch
At reader request, I added some business stats back in. Please give Econintersect click-throughs; they're a good, old-school blog that covers more than stats.
GDP: "Advance Estimate 4Q2020 GDP Is 4.0%" [Econintersect]. "The advance estimate for fourth-quarter 2020 Real Gross Domestic Product (GDP) is a positive 4.0 %. This growth is a significant slowing from the previous quarter's growth of 33.4 % if one looks at quarter-over-quarter headline growth. The year-over-year rate of growth also significantly improved but remains in contraction…. The coronavirus recovery is the reason for the improvement… I am not a fan of the quarter-over-quarter exaggerated method of measuring GDP – but the recovery from the pandemic is not over as the year-over-year GDP growth remains in contraction."
Employment Situation: "23 January 2021 Initial Unemployment Claims Rolling Average Again Worsens" [Econintersect]. "Market expectations for weekly initial unemployment claims (from Econoday) were 850 K to 951 K (consensus 875 K), and the Department of Labor reported 847,000 new claims. The more important (because of the volatility in the weekly reported claims and seasonality errors in adjusting the data) 4 week moving average moved from 851,750 (reported last week as 848,000) to 868,000."
* * *
Marketing: "Stop Talking About the Cookieless Future and Start Taking These Actions" [AdWeek]. "As marketers face the deprecation of the third-party cookie in 2022, it's crucial that they transition away from cookies and other risky identifiers sooner rather than later. It may be difficult to determine the best path forward, but here's some advice on how marketers can shift to an omnichannel identity solution to provide consumers the seamless, relevant and privacy-compliant experiences they increasingly expect… To use identity to create experiences, marketers must connect a customer's identity with their method of authentication—this is called addressability. Without addressability in a media environment, identity cannot be applied to create a personalized experience or be used for measurement…. Neutrality means a company or solution is unbiased and independent of media-buying platforms. If an identity vendor also buys or sells media, they are inherently not neutral." • Meaning, Facebook and Google log-ins are ruled out? Good, actually.
Retail:
Those stores began selling very cheap stuff, often purchased as overstock/factory seconds/liquidations. Over time they got bigger and more organized. Eventually, they evolved into what we know as the discount-department store (K-Mart, Walmart, etc.)

— Addison Del Mastro (@ad_mastro) January 27, 2021
Tech: "Facebook oversight board overrules company on most cases in first test" [Reuters]. "(Reuters) – Deciding its first-ever cases, Facebook Inc's oversight board ruled on Thursday that the social media company was wrong to remove four of five pieces of content the board reviewed, including posts Facebook took down for violating rules on hate speech and harmful COVID-19 misinformation…. The board has 20 members including former Danish Prime Minister Helle Thorning-Schmidt and Nobel Peace Prize laureate Tawakkol Karman."
Manufacturing: "Europe lifts safety ban on Boeing 737 MAX jet" [Reuters]. "The European Union Aviation Safety Agency (EASA) confirmed a provisional approval given in November, but dropped calls for an extra flight-angle sensor to back up a system implicated in crashes…. Boeing has said data from both "Angle of Attack" sensors on the MAX will be tracked in the modified aircraft, instead of just one as in the past. But EASA has suggested a third sensor system to act as a jury in case one of the main sensors fails."
Mr. Market: "GameStop shareholder sells off stake valued at over $1 billion" [MarketWatch]. "GameStop Corp. disclosed early Thursday that one of its largest shareholders, South Korea-based MUST Asset Management Inc., no longer held any shares of the videogame and consumer electronic retailer's shares…. Good timing, as GameStop's stock tumbled 21.6% in midday trading Thursday." •  So shines a good deed in a naughty world.
Mr. Market: "Robinhood Users Are Furious Over Its Stock-Trading Clampdown" [Bloomberg]. "Drawing howls from users, Robinhood and a major online brokerage, Interactive Brokers Group Inc., took the highly unusual step of curbing trading Thursday in GameStop and another stock that has shot into the stratosphere, AMC Entertainment Holdings Inc. The restrictions also drew criticism from Barstool Sports founder Dave Portnoy and U.S. Representative Alexandria Ocasio-Cortez…. Following Robinhood's move, the brokerage was hit by at least two customer lawsuits. Portnoy, a recent participant in the Reddit-fueled rally, was among those who slammed Robinhood for its decision…. "We're committed to helping our customers navigate this uncertainty," Robinhood said in a blog post. Investors looking to move to other venues may not find it easy. Trading 212, another app, said it has temporarily stopped taking new clients…. On Wednesday, Charles Schwab Corp.'s TD Ameritrade also curtailed transactions on GameStop, AMC and other securities. Amid the heightened volatility, trading platforms including TD Ameritrade, Robinhood, Schwab and Fidelity all experienced technical problems."
Mr. Market: "GameStop: flash mob vs Wall Street" [Financial Times]. "It would be tempting for market professional to dismiss the Reddit bros as 'dumb money' and their frenzied buying as a Ponzi scheme. Instead, this is a cautionary tale of how social media can be co-opted to attack the financial establishment." Not if other hedgies were involved on the buy side, it can't. More: "The Securities and Exchange Commission has to decide where the dividing line lies between legitimate online discussion of a stock's prospects and market abuse. Smart Reddit bros will have already sold out to the Greater Fool, as latecomers are termed. Fresh short sellers are targeting GameStop. What goes up must come down. The phenomenon will repeat as long as regulators allow it and markets are flying." • As for me:
don't worry this hedge is fully funded pic.twitter.com/zl6NWJNXUh

— hen-wen, oracular pig (@spindlypete) January 27, 2021
Mr. Market: "After buy ban, GameStop hypebeasts are looking for a Robinhood alternative" [The Verge]. "Discussion about switching ramped up on Twitter and in investment discords after Robinhood halted buying and trading on stock, citing "recent volatility" in the market with the aforementioned stock as the reason it prevented additional trading. Since the decision, Robinhood's app on the App Store has received thousands of one-star reviews as a form of practice known as review bombing. On the r/WallStreetBets subreddit, angry Robinhood users are calling for a class action lawsuit because "allowing people to only sell is the definition of market manipulation," according to one post. There's even a new subreddit specifically for suing the company. Another Robinhood user tweeted that after years of being on the platform, the move felt like a "slap to the face," adding 'to be regulated in a time of absolute prime opportunities is an embarrassment.' On Twitter, beloved rapper and Fyre Fest promoter Ja Rule did not mince words: 'Yo this is a fucking CRIME what @RobinhoodApp is doin.'"
* * *
Today's Fear & Greed Index: 46 Neutral (previous close: 36 Fear) [CNN]. One week ago: 63 (Greed). (0 is Extreme Fear; 100 is Extreme Greed). Last updated Jan 28 at 12:58pm. First dip into Fear for quite some time!
The 420
"Mississippi: Medical Organizations Join Legal Fight to Overturn Election Result Legalizing Medical Cannabis Access" [NORML]. "The American Medical Association (AMA) and its state affiliate have filed a joint amicus brief urging the state's highest court to reject a voter-approved ballot measure legalizing and regulating cannabis access to qualified patients. On Election Day, 73 percent of voters decided in favor of Measure 65, which establishes a system of state-licensed dispensaries to engage in the retail dispensing of cannabis and cannabis products to patients who possess a doctor's authorization." • The AMA is giving "trust the science" a bad name, here.
Class Warfare
"Inside the End of the Hunts Point Produce Market Strike Produce, pizza, and the power of a union" [Grub Street]. "One of the most consistent masked faces among the essential workers during the strike was a representative for the South Bronx, Amanda Septimo, who spent her first two weeks in the Assembly providing physical and emotional support for the workers. In between bites of a sandwich that was donated by the DSA, Septimo gave me more info about reported involvement in the contract resolution by Governor Andrew Cuomo. She had asked the union leaders, 'Tell me what I can do' to help end this strike, and they responded with an assignment: 'Call the governor." Instead of informing them that she didn't exactly have Cuomo on speed dial, she called "every single person — everyone I ever knew.' Septimo said the union wanted Cuomo to call the market back to the bargaining table, which she said happened on Wednesday, the night of AOC's appearance. Septimo said the two parties were back at the table on Thursday. "We wouldn't be here without that intervention," she clarified. (I reached out to the governor's office to confirm this account, and to ask, if it is true, why the governor did not publicly claim credit for the mediation, but I did not receive a response.)"
"Greed in the Suites, From Walgreens to Walmart" [Counterpunch]. "At Walgreens, workers start an $10 an hour. No chain store empire employing essential workers pays less. Could Walgreens afford to pay more? Just no way, the company's flacks would like us to believe. Walgreens was cost-cutting, the excuses go, even before the pandemic hit, announcing plans in 2019 to shut down 200 of its 9,000 local U.S. outlets. The squeeze on Walgreens workers has only deepened over the course of the pandemic. No retail giant in the United States, report Brookings analysts Molly Kinder and Laura Stateler, has given its workers less of a Covid hazard-pay bump than Walgreens, just 18 cents an hour…. Not every major corporate player has treated the pandemic as just another easy greed-grab opportunity. Workers at Costco — who start at $15 an hour, $5 an hour more than workers at Walgreens — have had an extra $2 an hour added to their hazard base rate."
No residuals?!?!
3. Even though her voice is heard all over the world, Carolyn Hopkins isn't getting rich.

She gets paid by the hour and doesn't get residuals.

"The reason why I enjoy doing this is I'm trying to help people. It's an honor. If it goes away…it will really hurt…" pic.twitter.com/XzIufq8EWo

— Yashar Ali ? (@yashar) January 28, 2021
(Hopkins is from Hampden, Maine.)
News of the Wired
"Are vegans really better lovers? Meat and sex through history, from Pamela Anderson to the Romantic poets" [iNews]. "Last week, vegan queen and all-round sex bomb Pamela Anderson made headlines after claiming that 'vegans make better lovers' in a post to her 1.2 million Instagram followers. The former Baywatch star claimed: 'the cholesterol in meat, eggs, and dairy causes hardening of the arteries (and not much else). It slows the flow of blood to all the body's organs, not just the heart. You can improve your overall health and increase stamina in the bedroom by going vegan.' … Claims that you should lay off the meat if you want enough meat to get laid are nothing new…. What's interesting, from a historical perspective, is the shift from associating meat-eating with a strong sex drive to linking it with poor sexual performance. Rich food, including meat, has long been thought to be responsible for all manner of naughtiness and debauchery. Early Christian saints, such as St Jerome (c.347 – 419AD) regularly fasted to purify the body and cleanse lustful thoughts. Medieval monks would also starve themselves for long periods of time and shun meat to gain mastery over both food and sexual hunger." • I love the concept of starvation leading medieval monks into temptation. The less they eat, the more Dinner at Trimalchio's invades their imagination, in a sort of doom loop…
"The Pandemic Has Erased Entire Categories of Friendship" [New York Magazine]. "The psychological effects of losing all but our closest ties can be profound. Peripheral connections tether us to the world at large; without them, people sink into the compounding sameness of closed networks. Regular interaction with people outside our inner circle "just makes us feel more like part of a community, or part of something bigger," Gillian Sandstrom, a social psychologist at the University of Essex, told me. People on the peripheries of our lives introduce us to new ideas, new information, new opportunities, and other new people. If variety is the spice of life, these relationships are the conduit for it." • Very interesting, and I wonder if the loss of "weak ties" may be contributing to embubblement.
* * *
Readers, feel free to contact me at lambert [UNDERSCORE] strether [DOT] corrente [AT] yahoo [DOT] com, with (a) links, and even better (b) sources I should curate regularly, (c) how to send me a check if you are allergic to PayPal, and (d) to find out how to send me images of plants. Vegetables are fine! Fungi and coral are deemed to be honorary plants! If you want your handle to appear as a credit, please place it at the start of your mail in parentheses: (thus). Otherwise, I will anonymize by using your initials. See the previous Water Cooler (with plant) here. Today's plant (RH):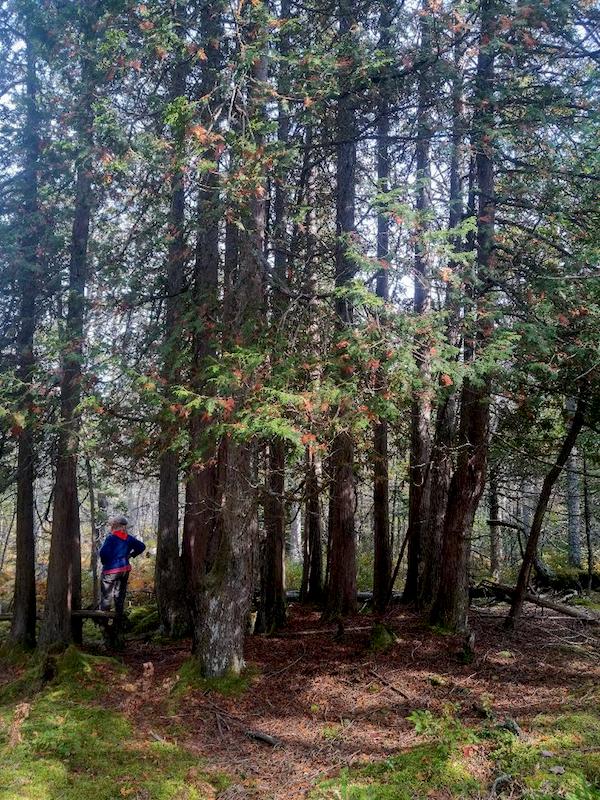 RH: "A walk in the woods." With a touch of red, very Constable-like.
* * *
Readers: Water Cooler is a standalone entity not covered by the recently concluded and — thank you! — successful annual NC fundraiser. So if you see a link you especially like, or an item you wouldn't see anywhere else, please do not hesitate to express your appreciation in tangible form. Remember, a tip jar is for tipping! Regular positive feedback both makes me feel good and lets me know I'm on the right track with coverage. When I get no donations for five or ten days I get worried. More tangibly, a constant trickle of donations helps me with expenses, and I factor in that trickle when setting fundraising goals:
Here is the screen that will appear, which I have helpfully annotated.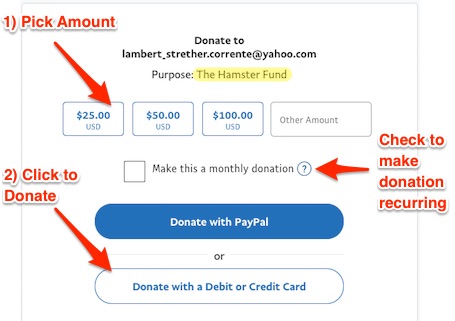 If you hate PayPal, you can email me at lambert [UNDERSCORE] strether [DOT] corrente [AT] yahoo [DOT] com, and I will give you directions on how to send a check. Thank you!